Nebraska Governor Pete Ricketts recently led a trade mission to Germany. The trade mission had over 25 delegates, including David Mayer, partner with Dvorak Law Group.  The purpose of the trade mission was to promote Nebraska's quality ag products and to thank German companies for creating jobs in Nebraska. In support of this, the delegation traveled to Germany between November 10, 2019, and November 16, 2019, and visited Berlin, Hannover, Muenster, Bielefeld, Harsewinkel, and Duesseldorf.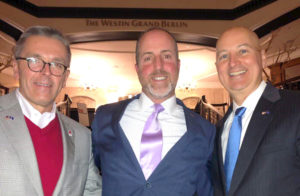 Dvorak Law Group was honored to have the opportunity to host a Friends of Nebraska reception in Berlin on Monday, November 11, 2019. The reception was for the trade mission delegation, University of Nebraska alumni, business officials, and other friends of Nebraska.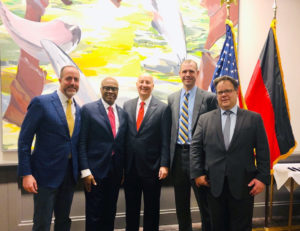 Other notable activities of the trade mission delegation include visiting the world's leading agricultural technology fair, Agritechnica, and companies headquartered in Germany that have business operations in Nebraska.
Dvorak Law Group strongly believes in supporting Nebraska's continued international growth and relationships. David currently serves as an international transition team member for the Nebraska Department of Economic Development and has participated in trade missions for the State of Nebraska since 2009. He also serves as Dvorak Law Group's representative with Legalink, of which, Dvorak Law Group is proud to be the Midwestern representative.
Legalink is a non-exclusive, international legal network of over 70 independent business-oriented law firms composed of 4,000 legal professionals. Members are from the majority of the world's main commercial centers. Businesses require access to the best legal services worldwide to succeed in the globalized world economy. Being a representative of Legalink allows David to form valuable relationships with lawyers around the world who can provide meaningful local assistance on applicable foreign law, access to other professionals in the foreign jurisdictions, and other matters.
These efforts, and the resulting relationships, allow Dvorak Law group and David to be strategic advisors to clients on a wide array of domestic and international business opportunities and challenges. They are also evidence of Dvorak Law Group's commitment to Nebraska.