Biography
David Mayer is a founding member of Dvorak Law Group and serves as the firm's Executive Vice President, chair of the firm's Mergers and Acquisitions practice group, and a member of the firm's Executive Committee. 
Dave serves as general counsel for his clients, managing their legal issues across all of the firm's practice areas. He helps clients solve complex and challenging legal issues, working with other legal, accounting, insurance, business, and banking experts on a broad spectrum of corporate and business matters. In managing his clients' relationships with the firm, Dave leverages more than 20 years of experience, counseling them in a broad range of business opportunities including, business entity formation and structuring, corporate governance, supply chain management, loan transactions, real estate matters, commercialization of intellectual property assets and the review, drafting and negotiation of all forms of business contracts.  
Dave works closely with transportation clients on various types of matters, including business development, business management, and strategic planning.  In addition, he has vast experience in the oversight of litigation counsel across the United States. 
Dave advises clients in responding to audits initiated by the Small Business Administration ("SBA") and other governmental agencies in response to PPP loan forgiveness applications, and in handling disputes and appeals relating to loan forgiveness denials and partial denials made by the SBA. 
Dave is recognized worldwide for his mergers and acquisitions experience, he negotiates and implements transactions of varying structures and sizes on local, national, and international levels. In 2021, Dave was awarded the prestigious "Legal Advisor of the Year" award by The M&A Advisor.  
Outside of his legal practice, Dave strongly believes in philanthropy and community service, serving on multiple boards and advocating for causes he believes in. He serves as an international transition team member for the Nebraska Department of Economic Development and participates in trade missions for the State of Nebraska. Dave is the firm's representative with Legalink, an international legal network of over 70 independent business-oriented law firms, and is composed of 4,000 legal professionals.
Representative Experience
Strategic Transactions
Sale of a regional trucking company to an international public transportation company
Multiple acquisitions of oil and gas transportation companies by large national transportation company
Acquisition of a minority interest in an industry leading meat packing plant
Acquisition of multiple regional and local automotive dealerships
Multiple sales, acquisitions and restructurings of healthcare staffing companies, including minority interest acquisitions and debt restructuring transactions
Multiple acquisitions and sales of multiple durable medical equipment, prosthetics, orthotics and supply companies
Multiple acquisitions of international distribution companies in Norway, Canada, United Kingdom and the United Arab Emirates
Multiple sale transactions involving national insurance companies to a large strategic acquirer
Sale of a medical technology company to a public dental products and equipment company
Multiple acquisitions and sales of national and regional fitness centers
Private Equity Transactions
Sale of a roofing company to a private equity firm in a transaction that valued the roofing company in excess of $120 million
Sale of an industry-leading roofing insurance company to private equity sponsor backed company
Sale of a majority interest in a consumer products company to a large private equity firm in a transaction that valued the consumer products company in excess of $400 million
Multiple bolt-on acquisitions of portfolio investments for a United Kingdom based private equity firm
Formation and securities matters for a private equity firm focused on the real estate and agricultural industry
Sale of medical clinical trial company to large UK private equity sponsor backed company
Sale of regional industrial contractor specializing in piping to large family office
Sale of construction company specializing in installation, fabrication and designs of doors, frames and related specialty products
Sale of a Colorado based transportation company that provides distribution services to the Rocky Mountain region

  
ESOP Transactions
Sale of a New York based services company to an ESOP
Sale of a regional underground utilities and heavy highway construction company to an ESOP
Sale of a regional automotive repair services company to an ESOP
Sale of a regional residential and commercial construction company specializing in heating, ventilation and air conditioning services to an ESOP
Miscellaneous
Advises clients on antitrust concerns and prepared antitrust compliance program and related materials
Advises clients on compliance with state and federal franchise laws and state business opportunity laws
Drafts and negotiates contracts, including prime contracts, subcontracts, employment agreements, and other various business agreements for national and local construction clients

 

Advises clients across multiple industries on compliance with state licensing laws and implemented programs for ongoing regulatory maintenance
Drafts materials and workmanship warranties for clients
Drafts and reviews various domestic and international sales representative, distributor, product development, manufacturer and supply agreements for clients
Negotiates various license and technology development agreements for clients
Advises clients regarding state and federal advertising and other laws with respect to advertising materials
Represents international clients in establishing U.S. headquarters and collaborating with immigration specialists to address immigration matters for such clients
Represented, as ordinary course counsel, a large group of media companies leading up to, through and out of a bankruptcy proceeding
Represented large multi-national manufacturer in drafting an updated form distributor agreement and related standardized form documents and policies and advised client regarding roll-out strategy related thereto
Professional Affiliations and Community Involvement
Business Ethics Alliance, chair and governing board member
Association of Corporate Growth, board member
Marian High School Board of Directors
Merrymakers, president, and board member
Midwest International Trade Association (MITA), board member
Nebraska Diplomats
Nebraska State Bar Association
Leadership Omaha Class 35
CHI Foundation, board member
Awards & Recognition
TOYO Award Winner, 2013
The M&A Advisor "Legal Advisor of the Year," 2021
The M&A Atlas Awards "Lawyer of the Year," 2023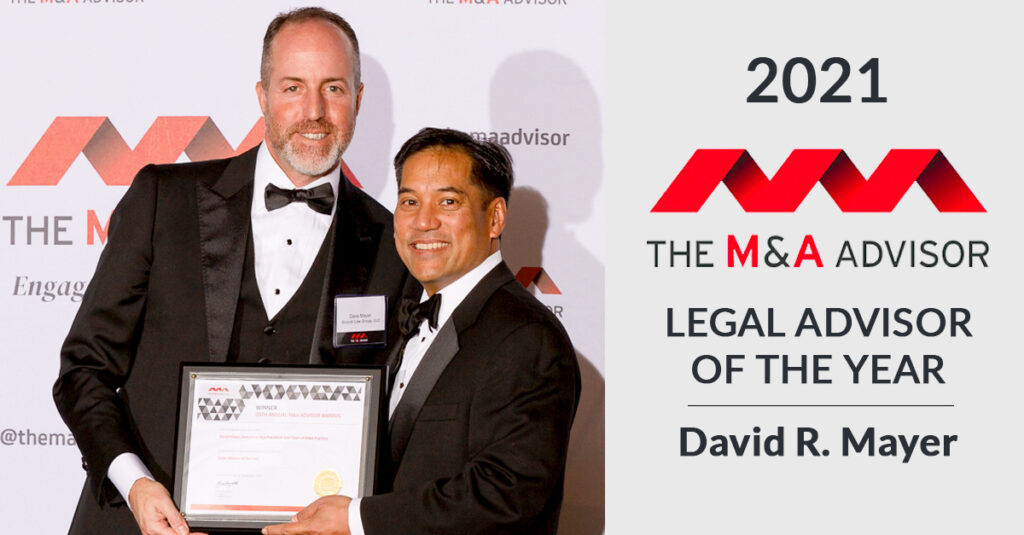 Practice Areas
Mergers and Acquisitions
Business and Corporate
Intellectual Property/Technology
Banking/Finance
Estate/Wealth Planning
Real Estate
Education
Creighton University School of Law, J.D., cum laude, 2000

Creighton Law Review (1998-1999)
Moot Court Board (1999-2000)
Creighton Legal Writing Clinic, Staff Member

University of Northern Colorado, B.A., 1996

Dvorak Law Group is proud to be Legalink's Midwestern representative, permitting the firm to handle clients' legal needs on local, national, and international levels. Legalink is a non-exclusive, international legal network of over 70 independent business-oriented law firms and is composed of 4,000 legal professionals. Learn More »